Meet Our Team
Our staff prides themselves on treating our guests as we would want our own pets to be treated. When you have a job you love it makes everything worthwhile. This is a job we love, and it shows as each client, four legs or two, walks through our doors.
---
Ami Cooksey
Owner
Ami has always been an animal lover and very passionate about their care and well-being. Over the years she found herself volunteering to take care of pets for family and friends while they were traveling. In 2003, she realized that there was a definite need for boarding in a loving environment and decided to start a small business boarding dogs from her home. After several years of running her boarding business, she realized there was a greater demand than she could fulfill from her home business. In 2006 she co-founded The Four Paws Resort and in 2010 she became the sole owner of the business. She has 5 animals of her own: Rusty, a Greyhound she adopted from Team Greyhound, Flo Jo a Whippet and Chanel a Standard Poodle, Coco a Miniature Poodle, and a Paso Fino horse named Vanidad. She currently fosters Greyhounds for Team Greyhound of Ohio, helping them find their forever homes. Ami has completed her Certified Pet Technician I through the PCSA in 2006 and continues to stay educated on pet topics by attending seminars every year. As of 2016, she became certified in Pet First Aid and CPR.
---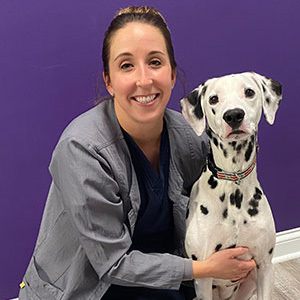 Kayla Thomas
General Manager
Kayla grew up in the small rural town of Mechanicsburg, Ohio. During school, she was involved in FFA and 4-H, showing livestock at the county fair. She had always loved to be around animals, and knew she wanted to work with them one day, leading to her pursuing a degree in Animal Science. In 2016, she graduated from The Ohio State University with a Bachelor's degree majoring in Animal Science, and a minor in Environmental Science. She joined our team in October 2014, while she was attending college. She now lives in Plain City, Ohio with her dog Simon, a Dalmatian and Lorenzo, the cat. In her spare time, she enjoys being outdoors, traveling, and spending time with friends and family.
---
Jacqui Miller
Groomer
Jacqui was born and raised in northeast Ohio. Her grooming career began in 2009, where she started grooming on her high school groom team. This is where she started to specialize in standard poodle trims. While continuing to further her education on her own, Jacqui had a job opportunity open in Westerville, which prompted her move to central Ohio in 2014. Once in central Ohio, she met her husband, and together they bought a small farm outside of Marysville and had two children, Charlotte and Rosie. Jacqui started managing our grooming department at The Four Paws Resort in February of 2015. She has trained all of our groomers, helping them grow in their own grooming careers. On the farm there is 2 standard poodles, a pit bull, 2 cats, 12 chickens, and 2 horses. When she is not grooming, Jacqui enjoys raising her kids, spending time with her horses, and going to dog grooming conventions all around the Midwest coast.
---
Jill Couch
Groomer
Jill has 3 years of grooming experience. Jill specializes in grooming dogs that need a little extra TLC. She absolutely loves what she does and finds forming a strong, bonding relationship with her clients very rewarding. She is happy to work for a wonderful company and the team has won the Marysville Tribune Reader's Choice Awards Favorite Groomer in Union County 9 years in a row. Jill is married with three adult children, and two dogs named Snickers and Leia. She loves being a nana to nine grandchildren and counting.
---
Niki Hull
Groomer
Niki was born and raised right here in Union County and is a Fairbanks graduate. She began a mentorship for dog grooming in Spring of 2019, and received her AKC Poodle Grooming Certificate from Barkleigh in May of 2020. When Niki isn't grooming your pooch she enjoys all things outdoors, CrossFit, and spending time with her husband, David, their two sons, Elijah and Matthew, and their two dogs, Mabel and Remi.